Archived
Former Bridgewater College President to Speak Oct. 29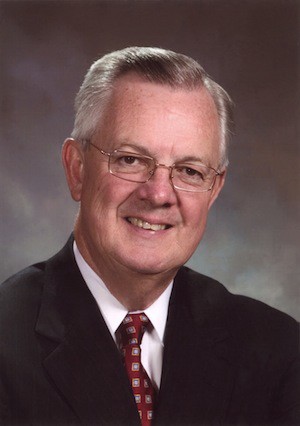 Phillip Stone, former president of Bridgewater College, will speak at a Southern Virginia University forum Friday, Oct. 29, at 11 a.m. in the Stoddard Center.
A noted Abraham Lincoln scholar, Stone retired as president of Bridgewater College in the summer of 2010. During his administration, the college saw increased academic and athletic excellence, capital improvements, student successes, increased endowment and expanded co-curricular opportunities.
Before accepting the invitation in 1994 to become president, Stone practiced law for 24 years with the Harrisonburg, Va., law firm of Wharton, Aldhizer & Weaver. In his law practice, he was involved in estate planning, corporate and health law. Stone was listed in four editions of The Best Lawyers in America. He also was president of several bar groups, and in 1997 he served as president of the Virginia Bar Association.
Stone also has served on many advisory boards including the Virginia Commonwealth Transportation Board, Board of Rockingham Memorial Hospital and was chairman of the General Board of the Church of the Brethren.
Active in local historical groups, he founded The Lincoln Society of Virginia and serves on the advisory board of the U.S. Lincoln Bicentennial Commission and the Virginia Lincoln Bicentennial Commission.
He has been chair of the NCAA Division III Presidents Council as well as chair of the Commission on Colleges (COC) of the Southern Association of Colleges and Schools, the accrediting agency for 11 southern states.
Stone is the recipient of various awards and recognitions including three honorary doctorates. In 1997 The Exchange Club named him as a Distinguished Virginian; and in 1987 the Religious Heritage Foundation named him as Churchman of the Year.
In 1965 Stone received his undergraduate degree from Bridgewater College. He later attended the University of Chicago graduate school of economics and received a law degree from the University of Virginia. Stone and his wife, Cherrill, have four children, all of whom graduated from Bridgewater College, and four grandchildren.
Community members and Southern Virginia faculty, staff and students are invited to hear forum and devotional speakers each Friday morning at 11 a.m. in the Stoddard Center. Recordings of past forum and devotional speeches may be accessed online.