Archived
Charlie Manuel and Vai Sikahema to Speak at Forum Nov. 12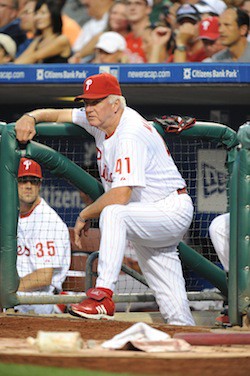 Philadelphia Phillies Manager Charlie Manuel will speak along with friend, Vai Sikahema, former NFL player and Sports Director for Philadelphia's NBC Channel 10, at a Southern Virginia University forum on Friday, Nov. 12, at 11 a.m. in the Stoddard Center.
Manuel, who graduated from Parry McCluer High School in Buena Vista, Va., in 1963, has enjoyed tremendous success as manager of Major League Baseball's Philadelphia Phillies. Since becoming manager of the Phillies in 2005, he has guided the club to a 2008 World Championship, back-to-back National League pennants (2008,09) and four consecutive National League Eastern Division titles (2007–10).
Manuel has been with the Phillies organization since 2003 and will enter the 2011 season ranked fourth on the Phillies' all-time managerial wins list (544). Previously Manuel managed the Cleveland Indians from 2000 to mid-2002, leading the Indians to an American League Central Division title in 2001.
In addition to his managerial achievements, Manuel enjoyed a very successful playing career in professional baseball. After graduating from Parry McCluer High School as a four-sport athlete — captaining the basketball and baseball teams in addition to playing football and running track and field — Manuel signed his first professional contract in the summer of 1963 as an outfielder for the Minnesota Twins.
Manuel worked his way up Minnesota's farm system, winning the Midwest League triple crown (.313, 15 HR, 70 RBI) in 1967, before debuting with the Twins in 1969. After four seasons with the Twins, including two ALCS appearances and two seasons with the Los Angeles Dodgers, he signed a contract with the Yakult Swallows of the NPB (Nippon Professional Baseball), Japan's highest level of professional baseball.
Manuel flourished during his six year career in Japan, hitting 189 home runs and playing for three NPB pennant winners. In 1979, he was named the NPB's Pacific League Most Valuable Player after batting .324 with 37 home runs and 94 RBI for the Kintetsu Buffaloes. The following year, Manuel hit a league-high 48 home runs, an American record in Japanese baseball at the time. In 1982 he returned to the U.S. to begin his off-field baseball career as a scout with the Minnesota Twins.
In his first official visit to the Southern Virginia University campus, Manuel will be accompanied by his friend, Vai Sikahema, who is filming for a television segment on Manuel's roots in Buena Vista for Philadelphia's NBC Channel 10.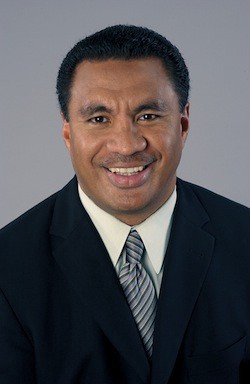 Before becoming a two-time Emmy Award winning sports anchor, Sikahema was named twice to the National Football League's Pro Bowl (1986,87), playing primarily on special teams as a punt returner. During his eight-year NFL career, Sikahema played for several teams, including the St. Louis/Phoenix Cardinals, Green Bay Packers and Philadelphia Eagles. When he retired from the Eagles in 1994, Sikahema ranked first among the NFL's all-time career leaders in number of punt returns and second in punt return yardage.
Sikahema earned a bachelor's degree in communications from Brigham Young University, where he played four years of football under LaVell Edwards, taking two years after his sophomore season to serve a mission for The Church of Jesus Christ of Latter-day Saints in South Dakota. When Sikahema returned from his mission in 1984, he helped BYU complete a perfect 13–0 season on its way to an NCAA Division I-A National Championship.
Sikahema resides in New Jersey with his wife, Kaela, and their four children. He currently serves as second counselor in a stake presidency for The Church of Jesus Christ of Latter-day Saints.
Community members and Southern Virginia faculty, staff and students are invited to attend this special forum on Friday, Nov. 12, at 11 a.m. in the Stoddard Center. Recordings of past forum and devotional speeches may be accessed online.