Archived
Cello Concerto and Latin Jazz at Orchestra Performance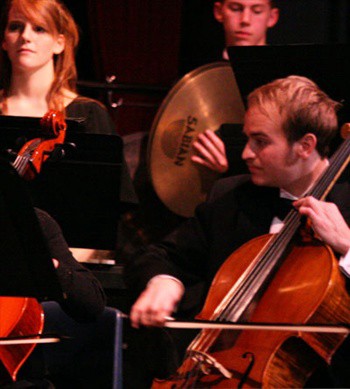 Cellist Jesse Houchens, student of Lexington artist and teacher Julia Goudimova, will anchor the Southern Virginia University Orchestra's concert on Thursday, April 15, at 7:30 p.m. in Chandler Hall.
Houchens, a sophomore who has been studying with Goudimova since coming to the area two years ago, will play Cello Concerto №1 by Camille Saint-Saëns. "It's been a great way for me to release my emotions each night as I try to express the different themes found in the music, " Houchens says of preparing the concerto.
"We're going to raise the roof," says the orchestra's music director, Professor Mark Taylor, "with a Latin jazz number, La Suerte de los Tontos (The Fortune of Fools), which will feature some newly acquired timbales," special Cuban shallow single-headed drums. And new "temple blocks" will bring the horse to life in Leroy Anderson's "Horse and Buggy."
Southern Virginia alumnus Matt Cline will guest-conduct the last movement of Beethoven's Symphony №1. Taylor returns to conduct Bach's "Sheep May Safely Graze," set for full modern orchestra, and "Pavane," which Taylor says is as delightful as a stroll in the park.
The orchestra will welcome guest Morgan Palmer, a young bass clarinetist. She will fly in from Amarillo, Texas to lend her talents for this spring concert and return to enter Southern Virginia's music program next fall.
The orchestra concert is free and open to the public.