Archived
Athletic Program Adds Women's Club Lacrosse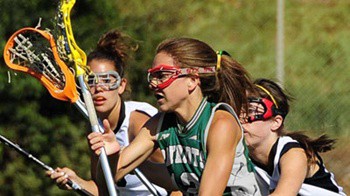 Southern Virginia University will add to its athletics program a women's lacrosse club team, which will begin competition spring semester 2011.
"We receive more requests to add women's lacrosse than any other sport and we think it will be a great fit for the university and our scholar-athletes," said Southern Virginia's Acting Athletic Director Deidra Dryden. "Starting a club team will help us further explore the potential of having a full-scale intercollegiate team in the future."
Southern Virginia University alumna Lena Griffin has signed on to help get the program off the ground and coach the first season. The Knights will practice and play on the university's new synthetic turf field, which also is home to men's and women's soccer and men's lacrosse practices and games, as well as football practices.
"Interest is already high among current students and we anticipate that adding women's lacrosse will bring others to the university who will benefit from the athletic and academic experience we offer," Dryden said. "Our biggest challenge this first season will be lining up games and scrimmages, but if there's one thing we know now to do at Southern Virginia it's how to blaze trails."
A previous attempt in 2006 to kick start women's club lacrosse at Southern Virginia faltered, Dryden said. "Things are much different this time; we have broad support from the administration and high interest from students."
Southern Virginia University's current intercollegiate teams include men's sports (baseball, basketball, cross country, football, soccer, tennis and wrestling) and women's sports (basketball, cross country, soccer, softball, tennis and volleyball). Southern Virginia's men's lacrosse team now is in its 6th season.
Anyone interested in learning more about women's lacrosse at Southern Virginia University should contact Deidra Dryden at deidra.dryden@svu.edu.