Archived
'Annie Get Your Gun' Brings Old West to Buena Vista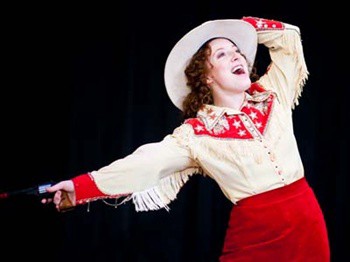 Those bickering celebrity sharpshooters Annie Oakley and Frank Butler will ride into town May 28–29 and June 3–5, when the Southern Virginia University Theatre Program presents Irving Berlin's "Annie Get Your Gun."
This fabeled musical boasted more hit songs in its day than any other. "Anything You Can Do," "You Can't Get a Man With a Gun," "Doin' What Comes Natur'lly," "Wonderful," "Old Fashioned Wedding," and the entertainment anthem, "There's No Business Like Show Business," are just some of the memorable tunes in this old fashioned hit. When the show was revived on Broadway in 1999, the New York Post called it "A musical for the ages, one of the Broadway theatre's enduring triumphs."
The title roles of Annie Oakley and Frank Butler will be played by Megan Klein and Dele Opeifa. Both are seniors at Southern Virginia University. Klein last appeared on the Southern Virginia stage as Amalia in "She Loves Me," and Mr. Opeifa was Oberon in "A Midsummer Night's Dream."
Robert Stoddard directs the production, with set and lighting design by David Dwyer, musical direction by La Rae Carter, and the orchestra conducted by Mark Taylor. This summer, the choreographer is a student, Kyle Nielsen, who also plays the part of Tommy in the show.

"You won't want to miss this colorful production," says Professor Stoddard. "It's a delight to watch, and the cast is simply outstanding."
The musical is suitable for all ages. Tickets are $7, with a senior rate of $5 and a family rate of $25. Children under three will not be allowed in the theatre.
"Annie Get Your Gun" is the show that everyone will be talking about, so don't miss your chance to see it. Curtain time is 7:30 p.m. at Chandler Hall on the Southern Virginia University campus.
Remember, "There's no business like show business!"
For ticket reservations, please call 540–261–8405.