Archived
2010 Service Award Recipients Announced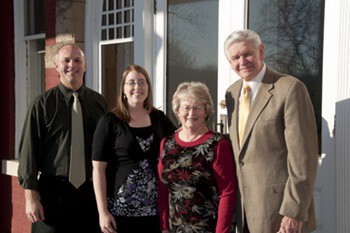 At the last devotional of the semester, Southern Virginia University Interim Provost Madison U. Sowell announced the recipients of the 2010 Ed and Chieko Okazaki Distinguished Service Award.
Now in its fourth year, the award is given annually by surprise announcement to representatives of Southern Virginia's faculty, staff and student body. This year's recipients include Glade and Judith Hunsaker, two volunteer faculty members; Tony Caputo, director of athletic recruiting and associate dean of admissions; and Kimberly Hyden, a junior from Green Bay, Wis. This year, for the first time, nominations for award recipients were opened up to all Southern Virginia faculty, staff and students.
The award is named in honor of Ed Okazaki, a Japanese-American who served in a highly decorated unit of the U.S. Army during WWII, and his wife, Chieko, an author and educator who served as first counselor in the Relief Society general presidency of The Church of Jesus Christ of Latter-day Saints from 1990–97.
This award honors exemplary leadership and service. For students, the honor will appear on their permanent transcripts — it ranks with valedictorian as the highest distinction afforded to a Southern Virginia University student.
Glade and Judith Hunsaker

Glade and Judith Hunsaker are volunteer faculty at Southern Virginia who taught as volunteers for three semesters. Glade is a professor of English with a Ph.D. from the University of Illinois who taught British Renaissance literature at Brigham Young University for 35 years. Judith is an instructor of music with a master's degree in music theory from BYU who was a part-time instructor in BYU's music department for several years as well as a private music teacher for 40 years. While at Southern Virginia, she founded the keyboard lab and accompanied for numerous recitals and devotionals.
Glade and Judith Hunsaker are the parents of nine children and have served multiple missions for The Church of Jesus Christ of Latter-day Saints.
Glade served the first of his three missions in Virginia. He served for 28 years in the Army, including 26 years in the Army Reserves.
Judith donated 18 months to teaching piano students free of charge at the Chopin Conservatory in Mauritius, an island nation off the coast of Africa, and participated in The Church's measles program in Kenya, seeing that children were vaccinated. She sang in the Mormon Tabernacle Choir for seven years. For four decades, she ran a music studio out of her home, never charging those who could not afford the lessons.
"Southern Virginia could not achieve its destiny without the generosity of our volunteer professors," said Provost Sowell. "This award symbolizes our gratitude not only for them but also for all our extraordinary volunteers."
Tony Caputo

Tony Caputo currently serves as the director of athletic recruiting and associate dean of admissions. For 10 years, he served as dean of admissions and director of financial aid. He has been a coach on the men's basketball team for many years and also coached the men's soccer team to two national championships. He has served in various ecclesiastical callings including elder's quorum president, counselor in a bishopric, and a member of the stake high council.
"He has faithfully served Southern Virginia for over a dozen years," Provost Sowell said. "On campus he is known for excellence in filling his rosters completely and with quality scholar-athletes; off campus he is widely respected for his organization of countless little league teams. One of the most knowledgeable, dedicated, and hard-working persons on campus, he is also one of the humblest."
Kimberly Hyden

Kimberly Hyden, a junior from Green Bay, Wis., majoring in liberal arts and Spanish, is the president of the Honor Council and serves as vice president of the Red Cross Team at Southern Virginia. She volunteers with the mentor program for local students and teaches art classes at Kling and Enderly Heights elementary schools.
"In all these activities, she teaches with love and compassion," said Provost Sowell. "She is a chief proponent of lessening the gap between the community and the university and she exemplifies Southern Virginia's goal to foster leader-servants. Her mantra of service is evidenced daily in her willingness to go the extra mile in whatever she does."