Archived
15 Years Serving Latter-day Saints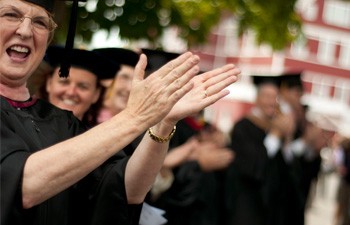 When Southern Virginia University reopened its doors in 1996 with an LDS oriented mission, just 74 pioneering students enrolled. Last week Southern Virginia welcomed nearly 750 new and returning students to commence its fifteenth consecutive academic year serving the Latter-day Saint community.
With the largest group of incoming freshman in its short history, it appears that word is getting out about the liberal arts university in Buena Vista, Va., that embraces the values of The Church of Jesus Christ of Latter-day Saints; and its message, "the genius of small," is catching on.
"We are excited to welcome such an outstanding group of eager and capable students to Southern Virginia," President Rodney K. Smith said. "The greatest part about the growth of the university is the opportunity we have as an institution to bless more lives."
Fifteen years ago a group of LDS educators and business leaders assumed responsibility for what was then Southern Virginia College, just before the 130-year-old institution was ready to close its doors. At that time, the board of trustees decided to close the school after several years of declining enrollments and financial struggles led to the loss of regional accreditation.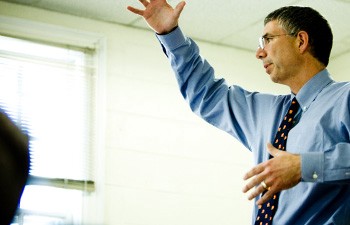 The new leadership, led by property management and development entrepreneur Glade Knight, had a vision of how this institution could one day bless the lives of hundreds of Latter-day Saints. With that vision in mind, they revived the school under a unique model of higher education — combining the best of a liberal arts college with the standards of the LDS faith.
After several years of growth and challenges, Southern Virginia earned national accreditation from the American Academy for Liberal Education in 2003 and is certified to operate and grant baccalaureate degrees by the State Council of Higher Education for Virginia. In June of this year the university received candidacy for regional accreditation by demonstrating compliance with rigorous academic and financial requirements over a period of years.
Some of Southern Virginia's most important accomplishments in the last 15 years pertain to students' academic achievements and the spiritual growth they demonstrate, both reflecting the fundamental principles upon which Southern Virginia was founded.
According to the Collegiate Learning Assessment the university administered in 2009, graduating seniors from Southern Virginia ranked in the top seven percent of seniors nationally in their overall ability to carefully and critically analyze complex materials, propose solutions and communicate their findings clearly. This impressive statistic can be attributed largely to small classes that cater to student learning, along with the liberal arts curriculum offered at Southern Virginia.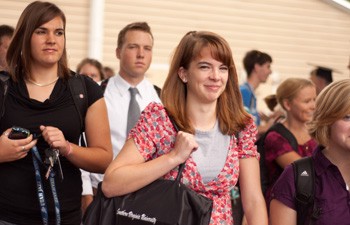 In 2010, nearly 600 colleges and universities including Southern Virginia participated in the National Survey of Student Engagement (NSSE), a survey measuring educational practices and activities that foster student learning and growth. This survey revealed that students at Southern Virginia interact with their professors in the classroom and on a personal basis far more often than students who attend other institutions with large percentages of LDS students.
The survey also showed that Southern Virginia students attribute personal spiritual growth to their experience at this institution significantly more than the national average. Both freshman and seniors at Southern Virginia reported that they regularly participate in activities that contribute to their spiritual development such as worship and prayer.
"This is the only institution in the country that provides the finest of a liberal education and an environment to support the highest of LDS standards," said Richard Stuart, director of the local Institute of Religion. "Take away the Church, the Institute and the values and you will have just another liberal arts college. It's the spiritual aspect that makes this university so unique."
In 2009 the Church completed construction on a new meetinghouse and Institute building that accommodates five university wards and the largest running daytime Institute east of the Wasatch Front. Southern Virginia also is the largest site for EFY east of the Rocky Mountains, hosting five sessions during the summer each year.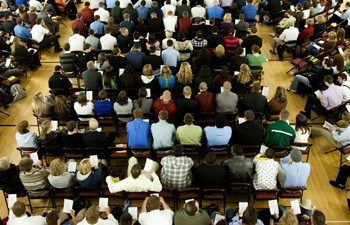 Since 1996, the overall assets of the university have more than doubled as its property ownership has grown from about 100 to 150 acres. Much of the growth has come through generous donations of land and new or renovated buildings around the campus and surrounding area. The most recent additions include a renovated student center, a state-of-the-art residence hall for female students and new fields for outdoor practices and games.
Richard G. Whitehead, vice president of institutional advancement at Southern Virginia, and his team have raised more than $10 million in the last three years, and in each of the past seven years have raised enough to match or exceed the needs of the annual budget. According to Whitehead, more than 60 percent of faculty and staff members consistently give to the university — a measure of their strong belief in the university's mission.
Southern Virginia Chief Financial Officer Bob Huch, one of the initial leaders who helped revive Southern Virginia in 1996, believes that the faith, wisdom and talent of those who came in the infant stages of the university has allowed the institution to grow as significantly as it has in the last fifteen years.
"There are few people that haven't felt compelled to be here," Huch said. "That goes for faculty, staff and students. When we began, many faculty and staff willingly accepted lower pay to come help the institution get off the ground and students took a risk by coming to a university that was initially unaccredited and un-established. They all felt prompted to come, and they came as an act of faith."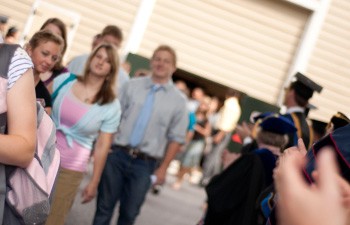 As the size of the institution has grown, so have opportunities for involvement. The vast majority of students participate in at least one extracurricular activity, including sports, music, theatre, arts, clubs, student association and Institute activities.
Southern Virginia athletic teams have won more than 30 small college national championships in a variety of men's and women's sports, and in 2010 the school won its fourth consecutive Directors Cup — an award that honors the all-around most successful athletic program in the United States Collegiate Athletic Association. Southern Virginia has had nearly 150 all-American athletes and more than 65 have received national academic honors.
Glade Knight, CEO and president of Apple Suites and the director and CEO of Apple Hospitality Two, Inc., has been chairman of the board of trustees for Southern Virginia since 1996 and has had immeasurable influence on its growth and success.
"It's a wonderful university with wonderful people and a wonderful future," Knight said. "I can't believe this all started 15 years ago. I'm anxious to see what the next 15 years will bring."