News Release
Southern Virginia Announces Zion's Camp, Pre-mission Adventure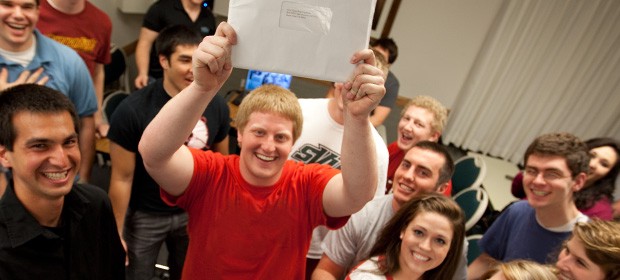 Southern Virginia University today announced the creation of two new mission preparation summer camps for youth and young adults.
These new programs will provide opportunities for members of The Church of Jesus Christ of Latter-day Saints to prepare to serve full-time missions. Both Zion's Camp — a six-day program for Latter-day Saint youth age 16 to 17 — and Prepare to Serve: a Pre-mission Adventure — a two-week program for young adults who are 18 or older — will include participation in spiritually uplifting activities, missionary work and team-building exercises.
"We are thrilled to announce new ways to help youth and young adults prepare for full-time missionary service," said Southern Virginia President Paul K. Sybrowsky. "Service, and missionary service in particular, is an indispensable part of the Southern Virginia experience and we are pleased to provide new opportunities to serve, learn and prepare for missions this summer."
During both programs, participants will get a feel for the daily flow of missionary life. They will work with assigned companions, live mission rules, participate in personal and companion study and develop teaching skills. During this process, they will learn from full-time missionaries, Returned Missionary Counselors and university leaders.
Other activities will include team-building exercises, a mountain hike, a challenging ropes course, value games and discussions, and visits to historical sites. During Prepare to Serve: a Pre-mission Adventure, participants also will visit a temple and participate in temple ordinances. During both of these programs, prospective missionaries will be taught practical skills including budgeting, living a healthy lifestyle and conducting hymns.
"I feel that these programs have a great deal to offer those who are thinking about missions, seriously preparing for missions and even those who have mission calls that are waiting for their MTC dates," said Professor Bruce Olsen, who helped to create the programs and previously served as managing director of public affairs for The Church of Jesus Christ of Latter-day Saints. "One of the main features of the program is that prospective missionaries will be working with and learning from returned missionaries. Built into the experience are some high adventure activities and many opportunities for them to grow to understand one of the primary mottos of the camps, 'I can do hard things.'"
Justin Winslow, the student program director of the missionary preparation camps, said that he feels these programs offer a unique opportunity for both youth and young adults.
"These camps are going to be great opportunities for young men and women to start off running in their missions," said Winslow. "Sometimes missionaries get out in the field and there's a period of time when they're just trying to figure everything out. These programs are designed to help them skip that step and serve to the best of their ability right from the start."
To learn more about the university's programs for prospective and returned missionaries, visit svu.edu/missionary.
Founded in 1867, Southern Virginia University is the only liberal arts college that serves Latter-day Saints and those with similar values. The university has a Code of Honor patterned after the teachings and standards of the Church.